About us
Ha Ha Entertainment, for all your entertainer materials and balloons
Ha Ha entertainment has been the largest supplier of entertainer materials and balloons in the Netherlands for more than 24 years. Started with circus materials and later the balloons, Conwin, Party products and other materials were added.
Nowadays we are the largest Dutch supplier of decoration balloons from, among others, Qualatex and the Dutch distributor of Sempertex (# sempertex-the Netherlands), if you are a decorator, email us for an attractive discount on our balloons.
We are characterized by:
* large stocks,
* personal attention
* knowledge
* fast service, ordered before 3 pm, shipped the same day.
Are you looking for a product or service and can not find it on our site, please contact us, we will try to make you a suitable offer
Why buy balloons and entertainment equipment from us?
Who are behind Ha Ha entertainment?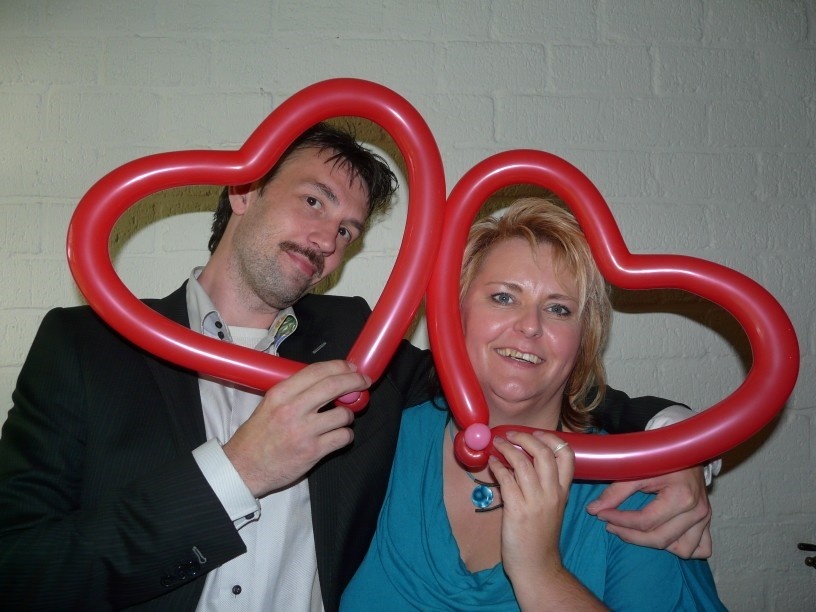 The 2 Ha's behind the company are Dennis Hogers (you may have seen him at "The smartest man" as a smart balloon man) and Ingrid Hogers, who have been active in the balloon world for 20 years now. At first as performing balloon artists and later the sale of balloons and entertainer materials was added.
The company now consists of three people, Rina Wouters now works at Ha Ha on a daily basis. In addition to accounting, she also arranges purchasing and helps with packing and sending daily orders.
Rina is already completely at home within the company, so if you come by or call us, there is a good chance that Rina will help you further.
History!
After a number of years it turned out that sales (especially of the balloons) also became known to fellow balloon artists, this part of the company grew strongly and it was decided to stop acting as balloon entertainers and to focus purely on the sale of balloons and related items.
Ingrid and Dennis also participated as a duo in different balloon modeling competitions and have won several prizes here.
It was also decided to combine the sale with giving workshops in the balloon area. First, the basic balloon folding course, later also advanced folding courses and balloon decoration courses.
Now an average of 10 instructor workshops take place throughout the year and masterclasses and private workshops are also possible.
More to report?
Of course. Did you know, for example, that Dennis and Ingrid are the driving forces behind Europe's largest balloon association? So if you want to learn more about ballooning, this might be something for you. Just take a look at www.unitedtwisters.nl.
Goals?
At Ha Ha entertainment, the aim is not just to sell balloons, the sale is only part of our job. Service is what we strongly focus on, customers are provided with advice on color, numbers, possibilities and in the showroom in Volkel it is always possible to demonstrate equipment or techniques.
Brands that are being sold?
Ha Ha entertainment is the official distributor of Conwin and Sempertex Nederland and the largest sales point for Qualatex balloons in the Netherlands. Brands such as M&D, Anagram, Amscan, Flexmetal and Streettreats are also available from us.
The aim is to have the largest possible stock so that customers can receive their order quickly.
Wholesale?
Yes, you can also go to Ha Ha entertainment as a balloon shop or balloon decorator.
Then fill in our form and buy at wholesale prices.

You can find the form here.
Come visit?
Of course you can also just drop by and purchase materials.
Our opening hours:
In principle, we are open every working day from 10 am to 5 pm, so you can drop by.
So far about us, there are any questions please let us know.
Ha Ha entertainment
Hopefully we can greet you as a customer soon